Guide to Buying and Restoring Vintage Garden Tractors Part 1
Are you interested in a mechanical oriented project?
Do you love old Farm Tractors but don't have the space to work on one?
Do you love the rural lifestyle but live in suburbia?
If this is you, then working on a Vintage Garden Tractor is the perfect hobby!
Vintage Garden Tractors provide the perfect outlet for a person to get greasy, work with tools, be outside, and take pride in an important part of American History and Culture. Legendary Farm Tractor Manufacturers also made smaller tractors for the common person. Farm Tractor Manufacturers such as John Deere, Allis Chalmers, Ford, International Harvester, and Massey Ferguson joined other companies such as Wheel Horse, Bolens, Jacobsen, Gilson, and Simplicity to bring mechanical chore performers to Lawns and Gardens all around the world.
Garden Tractors began their golden age in the 1950's and continue to be cherished today all over the world by men, women, both young and old.
iSaveTractors encourages you to explore this world. You will learn about physics, mechanics, history and meet many new friends along the way.
Below is a guide for the first time Vintage Garden Tractor Buyer. I hope you find it helpful in your pursuits:
What Tractor to Buy?
This is where the fun begins! There are dozens of tractor makes and models; all with unique physical characteristics and history.
Some things to consider
What will you do with this tractor? Will you use it to plow snow in the winter? Mow your lawn in the summer? Just drive it around for fun? Or never use it and just show it off to your buddies?

Some tractors from different time periods lend themselves better than others for certain tasks. Strength of Frames, Wheel Spindles, Transmission, Axle, Steering system, and Drive System should all be considered.
Do any particular brands bring you nostalgia? This is important! Do you have any personal ties to a particular brand? Did you grow up on a farm that used International Harvester Tractors? Does your father's old Wheel Horse bring back fond memories?
Do you like retro looks or a more squared off rugged look? Do you have a favorite color?

Some tractors from the 60's like the Allis Chalmers and Simplicity Tractors had some really unique styling that reminds me of 50's diners and classic cars.
Each tractor company had colors they were famous for. Ford was Blue, Allis Chalmers Yellow, Cub Cadet Yellow, Wheel Horse Red, and of course John Deere Green and Yellow.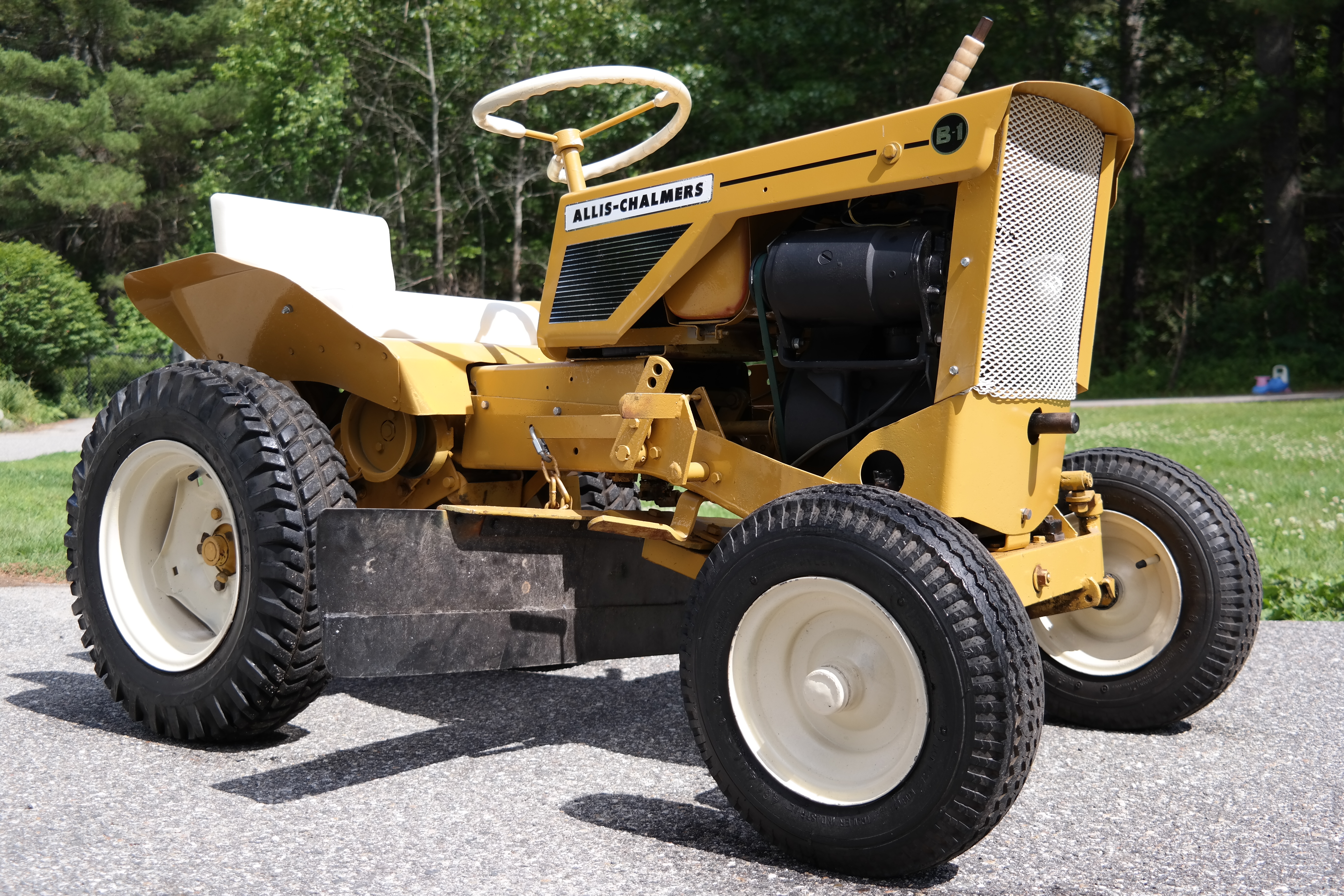 My personal thoughts:
When I bought my first tractor I wanted to buy a Ford. I grew up in the 1980's when the "Built Ford Tough," truck commercials were popular and I always associated ford with a special toughness. I also like the color blue! My goal was also to install a Front End Loader so I needed a heavy tractor with a tough frame, drive line, steering, and transmission system. The Ford LGT series fit the bill perfectly weighing in at 797 pounds, with a driveshaft connecting to a hydrostatic transmission with 2 speed differential.
How much work do you want to put into the tractor?
Decide ahead of time how much work you want to put into your tractor project.
Are you willing to rebuild the engine, transmission, and driveline?
Do you just want to repaint it and be good?
Do you want a Tractor that is ready to work or show as it is?
Where do you find these Tractors?
Craigslist! In the For Sale, Farm and Garden Section.
Before you go buying tractors keep the following in mind:
People are not necessarily out to scam you. Old tractors change owners many times over its life. When you go to look at tractors check it out carefully because the seller may be unaware of some issues.
Tractors may have "run when parked," but has since sat outside for a decade. Be prepared to walk through tall grass and literally drag your treasure out of the weeds. I travel with come alongs and tow ropes.
Be prepared for surprises when you arrive. Again it's not because people are out to take advantage of you. People just don't always know what they have.
What do I look for when buying the tractor?
Ok so you've decided the brand. You've thought about what you want to do with the tractor, you've decided how much work you are willing to do, and you've found a tractor on craigslist.
Now let's go look at tractors.
Depending on how much work you want to put into rebuilding the tractor some things will be more important than others. Let's break it down into each primary tractor component.
Engine:
Does it start? Run? Does it produce smoke when running? Is it vibrating excessively? Does it make any noise when running? Does the engine block have any cracks or holes? Does it leak oil? Is there clean oil in the crankcase?
If you plan on rebuilding the engine from the ground up it doesn't matter as much if the engine runs or not. But still check the outside of the engine block for any obvious cracks or holes.
If you don't necessarily want to tear down the entire engine, you want to pay careful attention to how the engine runs. Before you start the engine, always check the engine oil! Make sure it has oil in it, and the oil is either clear or black. If it is white, stop. That means there is water in the engine and the engine should not be started.
Signs of a Healthy Engine:
No Oil Leaks
Has oil in it that looks and smells like oil
Starts quickly when started for the first time
No smoke comes from the exhaust
RPM's increase and decrease smoothly as the throttle is brought up and down
No excessive vibration
Has an air filter
Engine Red Flags:
No oil in the engine. Indicates there was a leak at some point, and perhaps the engine was run when the oil level was low which can damage internal components
Oil doesn't look or smell like oil. Water or gas could have mixed with the oil. Engine may have been run like this which can cause components to wear or break internally.
Engine doesn't start. Could indicate issues with Ignition or Compression system
Blue or Grey Smoke. This means oil is leaking into the combustion chamber, and the engine is burning oil. Can be cause by Piston Ring Wear, Valve Wear, or crankcase pressure issues. This means you will have to rebuild the engine.
Black Smoke. Means engine is burning rich (Too much fuel to air ratio). Carburetor will need attention
No Air Filter. If the engine doesn't have an air filter it may mean the engine was run at some point with no air filter. That is bad. An engine takes in 15 times more air than fuel. If this air contains abrasive materials such as dirt and dust it can severely damage an engine.
Vibration. Could mean the engine is loose or needs new main bearings.
Driveline:
Signs of a Healthy Drivetrain
Hydrostatic Transmission has no leaks, has clean oil in it, and moves the tractor back and forth with minimal noise
Manual Shift Transmission has clean oil in it, no leaks, and shifts to all gears smoothly. Also moves the tractor back and forth with no grinding noises
Belts do not slip
Driveshaft doesn't vibrate
Drivetrain Red Flags
Transmission Oil Leaks – Seals will need to be replaced
Transmission Oil doesn't look or smell like oil – Water in the transmission. Transmission will need to be drained and inspected for excessive internal corrosion
Vibration – Drive Shaft may be bent
Grinding Noise – Gear backlash is excessive, or other internal problems
Burning Smell – Belts slipping
Tires:
Signs of Healthy Tires
Tires hold air
Doesn't have a lot of cracks on the sidewalls
Minimal Rust on tire wheel
Tire Red Flags
You will need to replace the tires if they do not hold air, have poor tread, or excessively weather cracked.
You will need to replace the rims if they are broken. (obviously)
Sheet Metal
Signs of healthy sheet metal
No deep pits, cracks or holes
Minimal surface rust
No large flakes of paint missing
Sheet Metal Red Flags
Deep pits in sheet metal – This will require more work to repair
Large Flakes of paint missing – This will require more preparation for new paint
Steering
Signs of healthy steering
Minimal Play in steering wheel
Front tires have no play on the spindle
Spindles are in good condition
Tie rods and drag links are straight
Tractor drives forward in a straight line and turns smoothly
Steering Red Flags
Sloppy steering – will require steering rebuild
Tie rods bent – will require attention
Front wheels have a lot of play or wobble – will need new bearings
Tractor veers to the side – Wheel toe in may need to be adjusted
Completeness
This is important! Finding parts for your tractor can be fun and frustrating at times. Some parts are difficult to find so make sure you are aware of that before buying the tractor. For example the Front Grills on Ford LGT Tractors are always damaged. It is rare to find one in good condition. Knowing that I found a source for aftermarket grills. Headlight Panels, Plastic Dash Boards, Mule drives, attachment mounts and Grills are frequently missing from old tractors.
Always check the tractor you're buying to make sure all the parts are there and whatever is not there, you are willing to track down, or build your own.
Conclusion:
Now you are ready to start thinking about restoring a vintage garden tractor. Follow the guidelines above and you will be mentally prepared to dive into your project. You will find this hobby very rewarding. Vintage Garden Tractors are tougher, more versatile, more affordable, and just plain cooler than modern day Garden Tractors.
Personal Recommendation:
If you are shopping for your first garden tractor here is what I recommend:
An international harvester made Cub Cadet Garden Tractor with a Kohler K Series Engine. These tractors are the some of the popular among restorers. They have more parts availability new, used, and aftermarket than any other make. The Kohler K engines also have lots of aftermarket support from companies such as iSaveTractors and are easy to work on and very strong. There are also many free resources available online that can walk you through every part of the cub cadet restoration process.
Good luck with your new hobby and if you need anything at all or just want to brag to us about your accomplishment, please contact us at iSaveTractors!
Recent Posts
In the previous article, " Best Vintage Garden Tractor for a Front End Loader," I wrote about what c …

Best Vintage Garden Tractor for Front End LoaderMy favorite implement for a vintage garden tractor i …

Engine Science: Repairing Your Tractor's Charging SystemYour tractor requires electricity to run an …